---
In our journey through life, we are often captivated by tales of extraordinary superheroes. However, amidst the pages of these fantastical stories, we tend to overlook the real heroes walking among us every day. Meet the dedicated team of brave souls at The CARE Center's Victim Services Department, who embody the essence of heroism for the children of Oklahoma County. They not only conduct crucial forensic interviews and medical exams but also provide essential resources to victims, caregivers, and families in desperate need.
This month, we have delved deep into the heart of The CARE Center's mission and its unwavering commitment to combating child abuse. We reached out to our Victim Services department to learn more about what they do and the kids they serve. Join us as we discover the incredible strength and unwavering compassion required to support victims of child abuse, their resilient caregivers, and their families in their pursuit of healing and justice.
Director of Victim Services, Rebecca Craig:
What are some of your team's strengths?
"They are truly the dream team! Each day they show up and give individualized attention to the caretakers and children we serve. This staff is dedicated, compassionate, and committed to working with children and families who experience abuse."
Do you have any advice for caregivers and families on where to begin if they suspect abuse?
"All Oklahomans are mandated reporters. The first step is to report the suspected abuse to either the law enforcement jurisdiction where the incident occurred or to call the OK DHS hotline at 1(800)522-3511. You do not need to be able to prove the abuse – you only need to have suspicion. Our Education Department has wonderful training on recognizing and reporting abuse. If the child disclosed to you, document what they said, do not ask lengthy follow-up questions. This can impede the investigation process. We do not want the child to have to discuss the allegations over and over, this will cause re-traumatization and complicate the additional questioning they will receive throughout the course of the investigation."
Bilingual Forensic Interviewer, Maria Escobar:
What do you enjoy most about your job?
"Helping others. I love that I can provide a safe space for kids to share maybe their most traumatic experiences."
What resources does The CARE Center offer for Spanish speaking families and caregivers?
"We now have three bilingual staff members to assist our Spanish speaking families & children.  Having two bilingual interviewers is amazing, but having a bilingual advocate makes the whole process a lot smoother for our staff, MDT, and most of all for our clients. 
We can refer to the right places for additional resources when needed because we have staff that speak and understands what families need." 
Forensic Interviewer, Skylar Reeves:
What made The CARE Center stand out to you?
"The CARE Center stood out to me when I became an intern in my last semester of college. It showcased an unseen side of child abuse advocacy that I was completely unaware of. While I was an intern, I got to see how big of an impact the entire staff makes on the individual people that come through here, and how the community is impacted by all the outreaches done by the staff. Once I got hired here, The CARE Center really allowed me to grow into my position and encouraged me to step outside of my comfort zone to develop a well-rounded understanding of the Multi-Disciplinary Team (MDT)."
What does a typical workday look like for you?
"A typical workday for me starts with getting to the office and looking over the allegations for each kid that I will be talking to that day. Once I look at the allegations, I respond to emails, call back various investigators, finish sending out summaries, and update information in our database. Usually, I talk to one kid in the morning and then talk to another in the afternoon. The interviews with these children can last anywhere from twenty minutes to two hours, so my schedule revolves around how long each one wants to talk with me. After all the interviews are done, I update all the investigators on the case and wrap up my day!"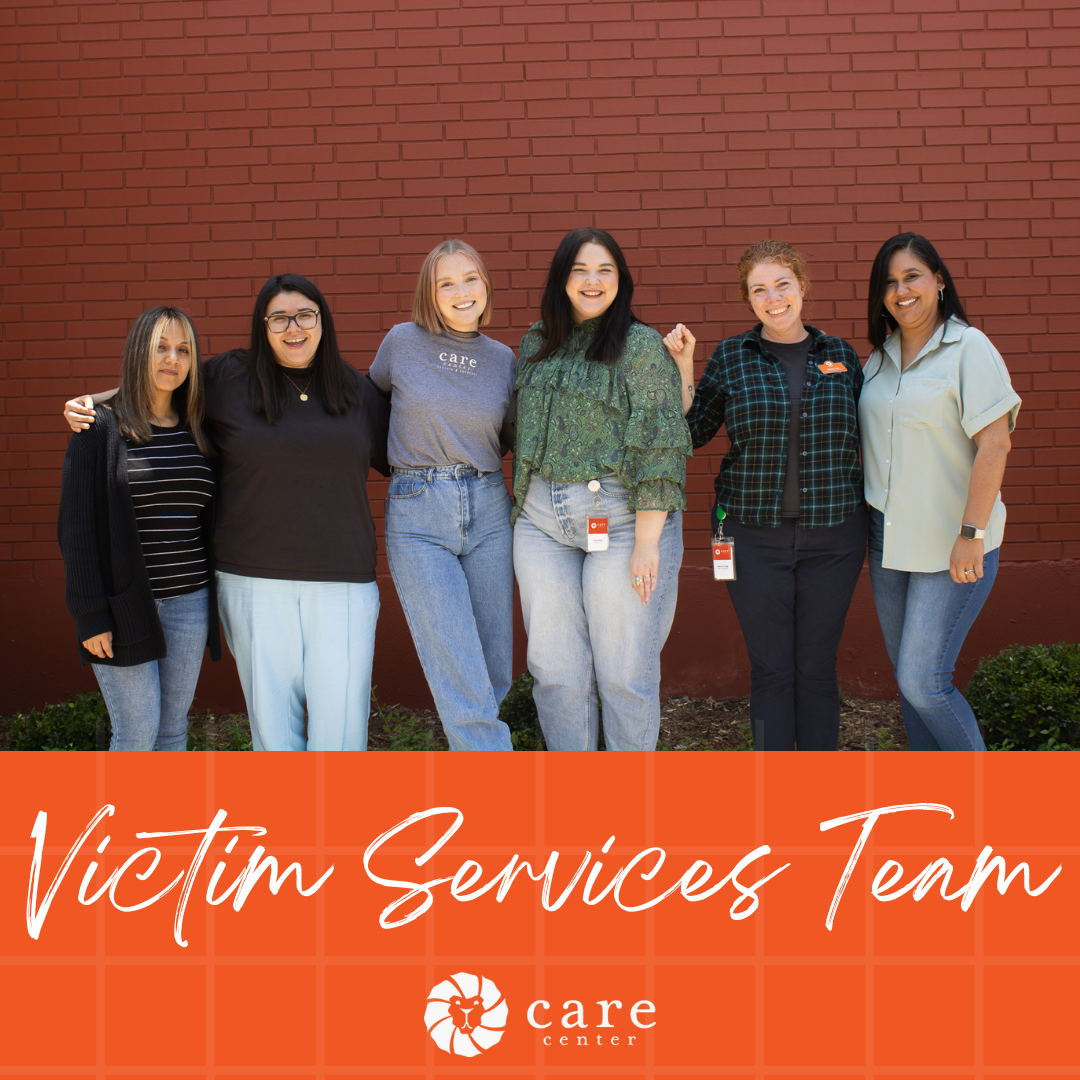 Bilingual Family Advocate, Angelica Butanda:
Do you find language to be a concern for many families visiting The CARE Center?
"Yes, however, once they realize someone will be able to communicate and help them understand the processes in their native language, you can see their tension immediately ease. It allows them to have one less thing to worry about during such a stressful time."
What does a typical workday look like for you?
"Each day varies but typically we see two to four appointments daily (Two in the morning and two in the afternoon.) When we aren't meeting with families, we attend in person or virtual trainings. This helps keep us updated with best practice protocols for our caregivers and MDT team."
Family Advocate, Emma Davis:
This job can be tough, what makes it worthwhile?
"Knowing that our clients leave our center feeling supported. We are often the first people to check-in with the caregiver and ask them about their needs. Being able to be that support for a family going through a very traumatic event makes even the toughest cases worth it."
What forms of help does The CARE Center offer to families?
"I tell every caregiver I talk to that we are a support for the family. That means if they need resources, referrals, they just need advice or to vent we are there for them. We can provide resources for housing, food assistance, clothing assistance, and many more. We also work with our Mental Health Team at CARE to ensure that every family has access to counseling services, and we work with many other community partners to make sure our family's needs are met."
Bilingual Forensic Interviewer, Sandra DeLoera:
What do you think makes The CARE Center unique in its approach?
"The CARE Center not only provides interviews, but also support for families. We have an awesome team that includes our family advocates, mental health team, medical team, and our partners on campus. The CARE Center can help and provide any resources or services a family may need, all under one roof."
Do you have any advice for non-English speaking families hesitant to reach out for help?
"The CARE Center is here to help. We are here for families when they need someone to talk to, someone to be in their corner, and to help in understanding the process. Reaching out for help is not easy to do but here at CARE we will support our families in the best way possible. We do not care what walk of life a family may be in CARE is here to support all the families that walk through our doors no matter race, color, or language barriers."
The CARE Center's Victim Services department is an unknown asset in our battle against child abuse in Oklahoma County. They work relentlessly to ensure children not only have a safe place to discuss their trauma, but also ensure they have the courage to overcome it. We encourage you to help us in our fight by reporting any suspected child abuse. You can also follow us on social media and sign up for our newsletter to stay updated on events, volunteer opportunities, and other ways to support The CARE Center. Let's work together to create a safe future for our loved ones!
If you or a loved one are experiencing abuse or suspect abuse is occurring, don't hesitate to call the OK DHS hotline | 1 (800) 522-3511