Technology vs. Health: Simple Secrets for A Healthy Mindset
---
Welcome to The CARE Center, a child advocacy center dedicated to supporting victims, caregivers, and families affected by abuse. While our primary focus is providing assistance through emergency response, we firmly believe that prevention education is crucial in ending child abuse in Oklahoma County. In today's technology-driven world, one concerning issue often overlooked is the detrimental effect of social media and the internet on children.
At the CARE Center, we tackle this issue through comprehensive education programs and equipping caregivers and the community with the knowledge and tools to protect children in this digital age. Join us in creating a safer online environment and safeguarding the well-being of the next generation.
Safety Concerns:
One of the biggest safety concerns in children's mental health is the internet. Often children are unmonitored with unlimited access to the internet. Not only does it make it easier for children to be targeted by abusers and groomers, but it also allows them to have access to a wide variety of information. This ranges in various multitudes and includes many forms of dark and disturbing information that can be found at our fingertips.
Adding to this concern, is children not having the ability to process the information safely. This includes strangers in chat rooms who aim to talk with or request information and images from children. These people seek out and target children through various means. It's imperative for them to, at a minimum, have access to a safe person for discussions regarding this information or even someone monitoring them online.
We are all too familiar with those "picture perfect" social media accounts. They select, stage and edit every photo to paint a supposed perfect picture of their life. Children (and adults) begin the battle of comparison – measuring their own lives up to these unrealistic accounts. Numerous kids are dealing with suicidal thoughts and depression due to social comparisons with influencers, YouTubers and other social media celebrities.
According to The Pew Research Center, "32 percent of teens claim social media has had a mostly negative effect on people their age." Just merely seeing this content can take a toll on our mental health.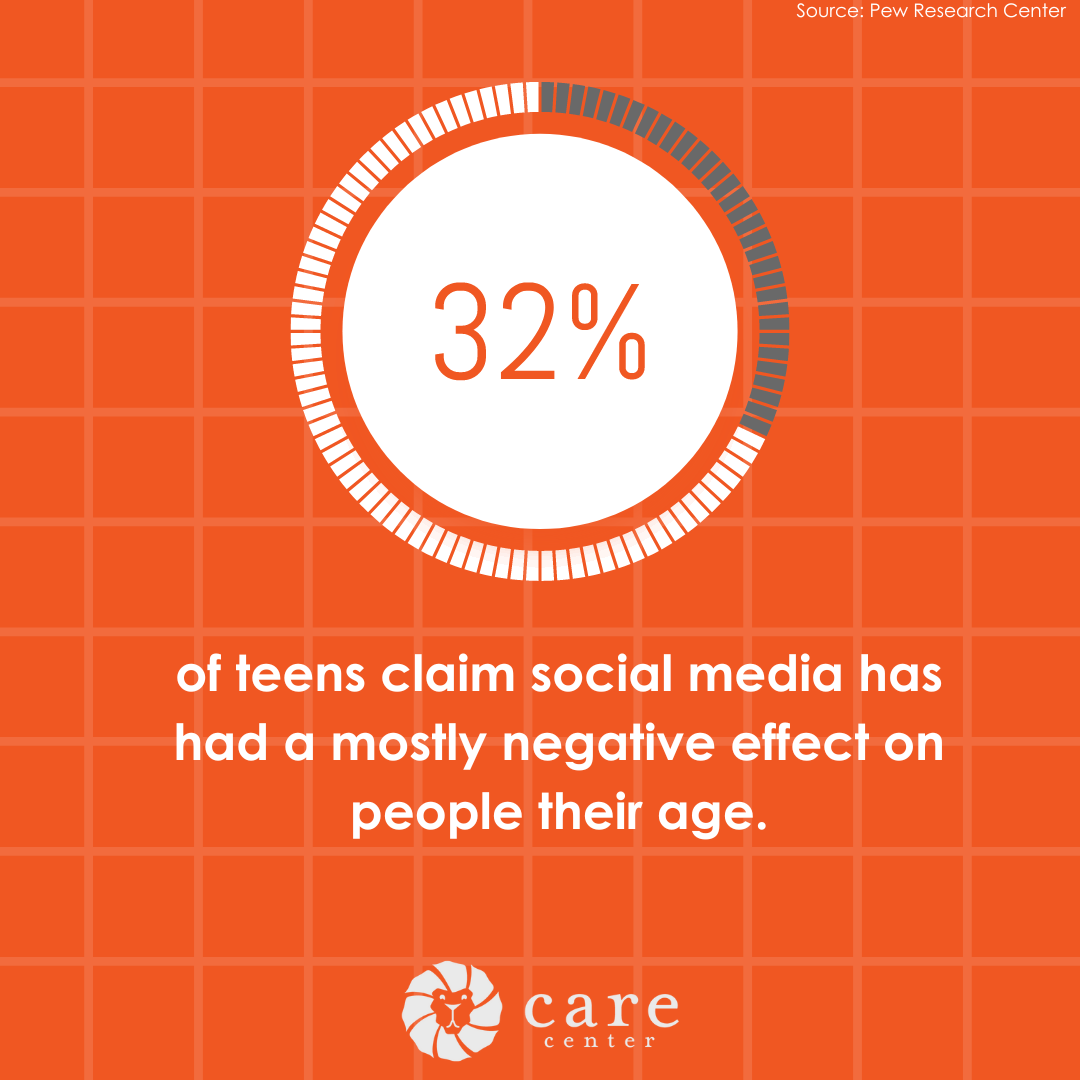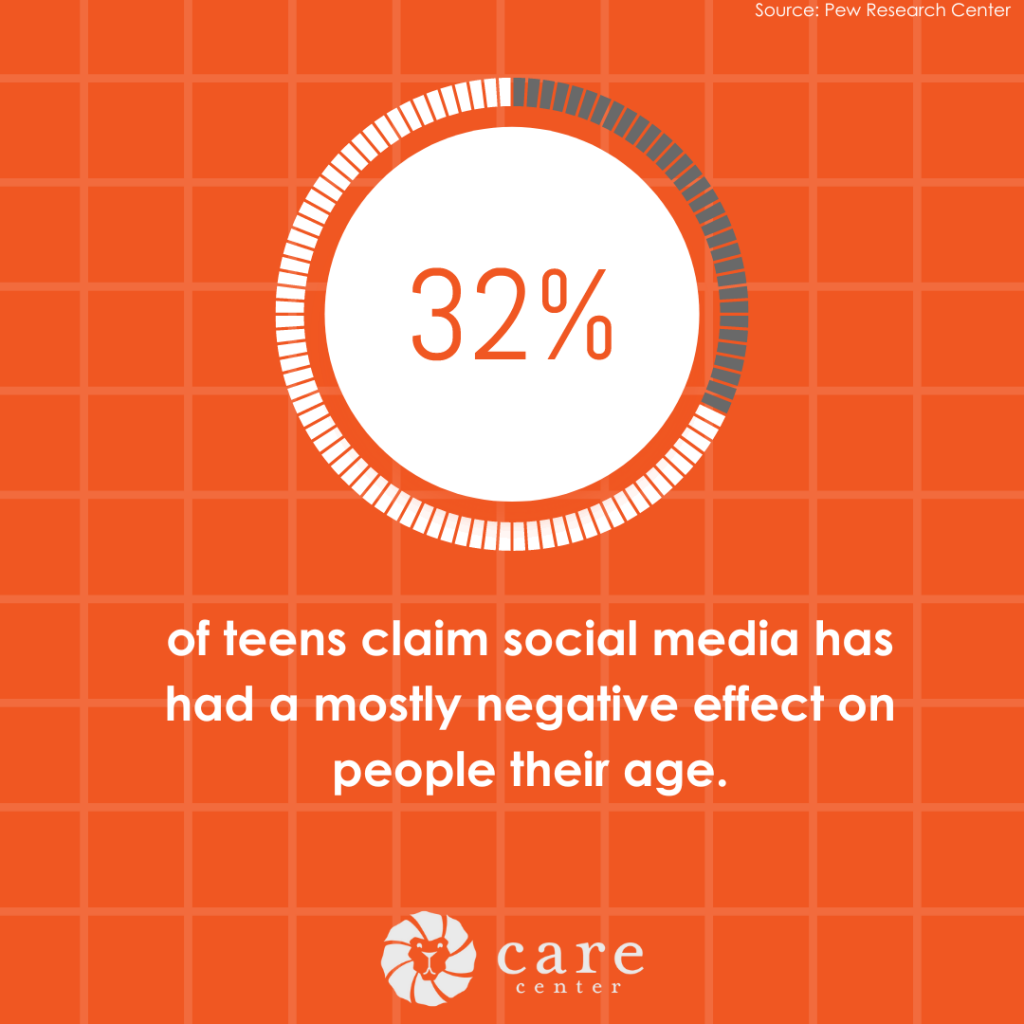 Warning Signs and Mental Health Tips for Families:
A great way for parents to ensure their children are safe is by simple observation. It's vital for parents to pay attention to the warning signs their children may be presenting. These signs can manifest themselves as changes in physical appearance or emotional/behavioral changes as well. Here are a few red flags to pay attention to as a caregiver.
A child's hygiene or appearance changing
Wearing long pants and sleeves in the summer
Not bathing/showering
More sensitive, crying, or reacting quickly
Becoming more anxious or even clingy
Grades dropping in class
Getting in trouble for fighting
Substance abuse or unsafe sex
Check-in with Your Kids:
Aside from these signs, our mental health department recommends families spend time together and talk to each other. It's important to figure out what drives kids and what they deem is difficult for them. Breaking down these barriers with family members creates the ability to harbor a strong, trusting relationship which allows the parent to become the child's safe person. Also, ensuring eating healthy foods, getting a good night's sleep, and sharing feelings are priorities for everyone in the family.
Our mental health department also says one of the most important tips to remember is to promote positive mental health for children by being a good, healthy role model. Teach children how to react and respond to difficult circumstances by leading through example. Children pay attention to their surroundings and others more than people assume. If they watch their parents and caregivers handle difficult situations in a healthy manner, they will learn to replicate these habits in their own lives. It's never too early to begin showcasing what it means to be healthy physically and mentally to children!
If there is a medical emergency or a loved one is exhibiting red flags, please be sure to reach out to a mental health professional immediately. If additional assistance is needed for any mental health concerns, please reach out to the resources below.
Mental Health Crisis Hotline: Call or Text 988 | Español: 888.628.9454
For more mental health resources, visit 988 Oklahoma
---