We're expanding our campus to serve even more children!
Dear friends,
You might recall that in 2018, we purchased an old home directly behind our main building. This property, the sixth on our campus, was acquired to meet our growing needs as a child abuse organization and better prepare us for the future. Expansion at The CARE Center will provide a new facility of nearly 6,000 square feet, allowing us to better accommodate multi-disciplinary, community, and prevention education trainings; collaborate in response to child abuse investigations; serve clients with improved spaces, especially play orientation, medical, and mental health; and enhance healing for our families. Our move into the larger facility will also free up some of our existing space for other law enforcement jurisdictions and/or nonprofit agencies who can offer additional support services on-site to our families. We planned to renovate it, just as we had renovated five other houses on our campus. When the architects and engineers determined the house could not be safely renovated to meet the needs of the kids we serve, we were heartbroken. We explored every option we could think of:

Could we build on the adjacent parking lot?
(No, because we'd be out of compliance with safety standards established by the CMZ, including fire setbacks, lot coverage and parking.)
Could we purchase additional land in the neighborhood and build there instead?
(No, because there isn't enough available land to hold our campus, and our service model is built around having everything kids need in one location.)
Could we sell all our property and move out of the neighborhood?
(Even if we could sell our entire campus, we'd still need a large, available location close to Children's Hospital, and that doesn't seem to exist.)
The decision to demolish the house on our property was a difficult one, but our board and our team of experts thoroughly surveyed our options and decided it was in the best interest of our kids.
The house has some important history behind it, which was unknown to us when we bought it. In February, we learned the house was previously used by the Oklahoma City Federation of Colored Women's Clubs, when it was known at the Brockway Center.
We immediately met with that organization, and together, we determined that the home's history would be honored inside and outside our new building.  The women of OCFCWC would be able to use the new facility for free meeting space in perpetuity. They would also gain a seat on our Board of Trustees, forever intertwining our organizations and our shared mission of serving our city's most vulnerable citizens.
The CMZ granted our demolition permit on May 22. Then a new partner came forward, and a new idea was born. On May 24, our team met with leaders from the Oklahoma City Redevelopment Authority. They wanted to buy our house, but they acknowledged that the land they could offer us for purchase wouldn't hold our entire campus.
That's when one of our board members came up with the idea of selling the house to OCRA and allowing them to move the house to the land they already own in the neighborhood. I am pleased to tell you today that OCRA has accepted this offer. OCRA is already working on a plan to move the house to a nearby plot, where it will be preserved for years to come. Because the CARE Center will be able to retain the land where the house currently sits, our expansion plans will move forward too. We expect to officially break ground in July.
Importantly, I want you to know that this change of plans will not affect our agreement with the women of the Brockway Center. We have enjoyed getting to know them, and we look forward to working with them for years to come. Once we learned about the history of the home on our property, we wanted to explore every reasonable option to preserve it in a way that honors our primary mission – serving abused children. This last, previously unexplored option just may serve everyone's needs, and for that, we are truly grateful.
Sincerely,
Stacy McNeiland, CEO, The CARE Center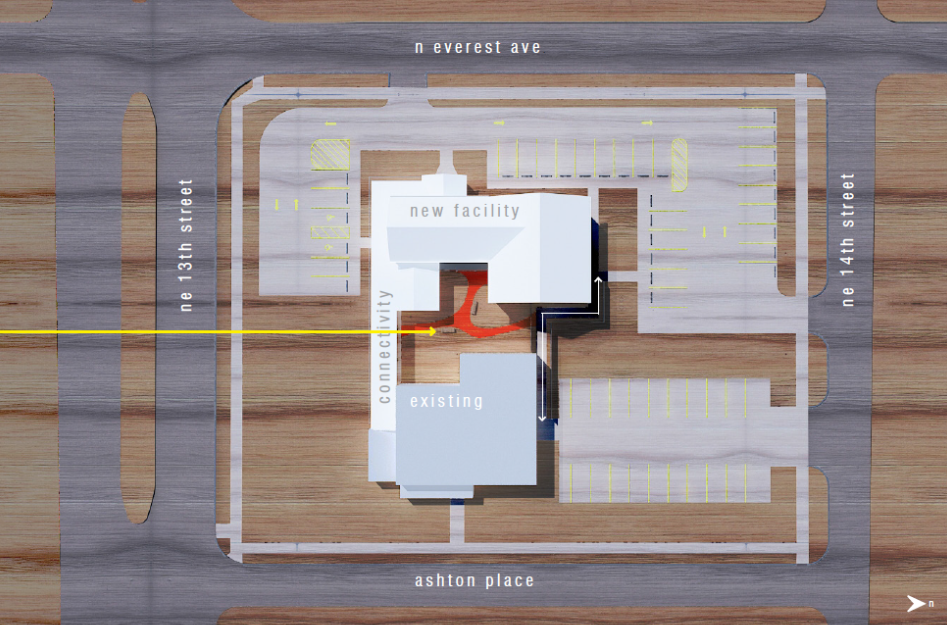 What is The Brockway Center?
When The CARE Center purchased the property, we knew it only as a private residence. In February of 2019, The CARE Center learned of the facility's previous use by the Oklahoma City Federation of Colored Women's Clubs. When we discovered the significance of the building, known as The Brockway Center, we began to look for ways to work with the women to help honor their history and support their current work. We have reached an agreement with the women and in March 2019, signed a memorandum of understanding that will allow their organization to have free meeting space in the new facility and honor their important work inside and outside of the new building. The women of The Brockway Center have withdrawn all objections to demolition, and we welcome the opportunity to partner with such an important organization who share's a similar mission of providing support for the community's most vulnerable citizens.